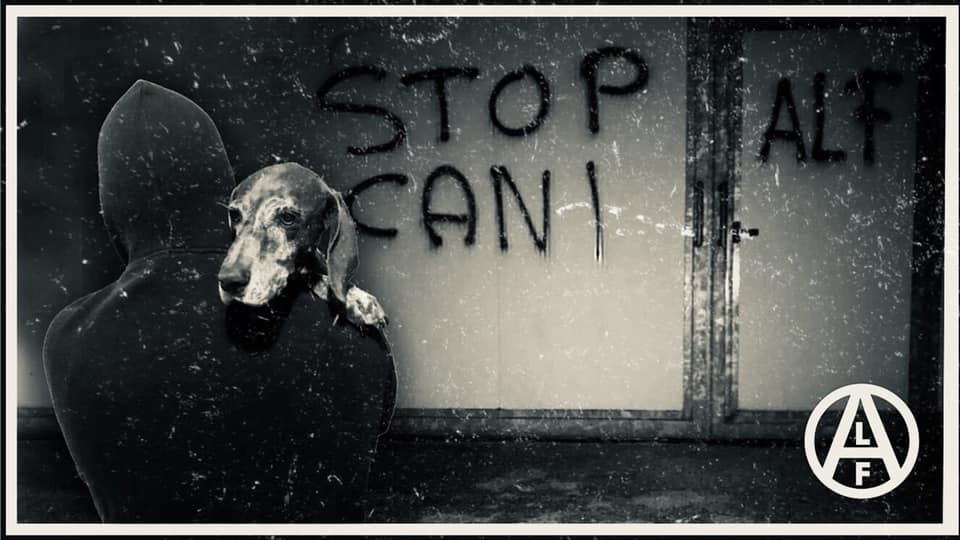 The Liberators broke into a semi-abandoned warehouse in Veneto, where for a while a old man had a dog in shameful conditions. It was liberated, cared for and given to a family that loves him like a child. Not pleased enough with having caused suffering and pain to that dog, this old man, after some months, catch another creature to leave it to his fate, in his outdoor dump were once a time there was commercial activity. All day alone, surrounded by rotten water, with rusted bowls, his only shelter was a rotten wood house, his only solace was the few pettings of the few people who pass from there that he was almost beggin for with his sad eyes and need for tenderness.
The little creature was liberated, now he is safe, far from the pain and suffering. The first veterinarian treatments found serius problems due to the state of total abandoment in wich he was, and relentlessly he would die in a few weeks. Now we adress you, for second time. You put the life on an animal in danger, if it's not clear for you, you do not deserve next to you not even an ant. No other animal will have to cross the gates of your property, dont waste energy on your last years of life, theliberators will be always ready to take action, both in day and night, consider yourself warned.
get yourself a Stuffed animal!
Perro liberado de su cautiverio en Italia.
Translated by Traces of Fire