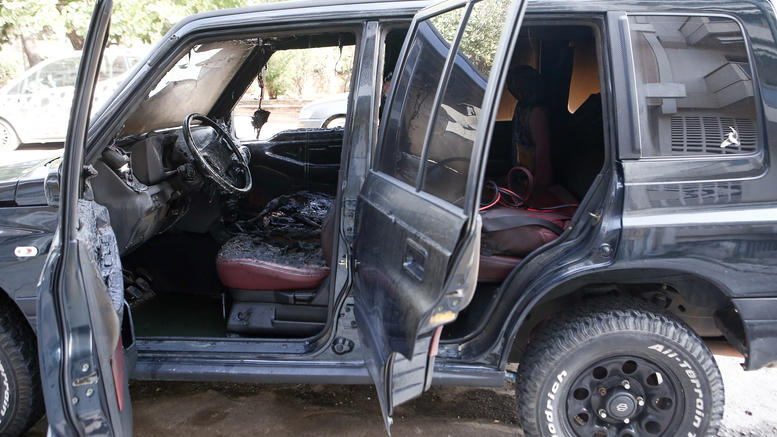 "On October 28, we made a double hit in the area of ​​Zografou, burning a truck / refrigerator for meat transportation, with an incendiary mechanism. We also attacked a hunter's car by breaking and burning gasoline in its interior. We also take responsibility for the Green Nemesis Act 3.
We indiscriminately attack what contributes to the incarceration, abuse and misery of animals. Whether this is a cosmetic showcase or a butcher, etc.
ANTHROPOCENTRISM
People from the very old age used the animals for their benefit. With the development of technology and its means, the exploitation of animals grew, while the value of life was undermined. Anthropocentrism is the one that leads millions of animals to death in order to become food, and not only. Workshops full of experimental animals. Also people still use animals for their own fun.
The attitude of the human species has made him think he is more important than nature and any other animal, constantly looking at how he can profit from the destruction, plundering, domestication and death of animals and land. In this value system, animals, at best, are objects of use and pleasure in the sense that they have complete control as if they were private property. That's why we are not surprised when citizens, the media and society in general become outraged at the sight of a broken butcher shop or a burned car that belongs to a hunter while applauding themselves at festivals and celebrations where animals are systematically tortured, humilliated and killed for fun or very simple for 'traditions'. With the same logic, they all do not care that the food that fills the supermarket refrigerators and shelves comes from an endless martyrdom of trapped animals in farms and factories, animals that are being fed with antibiotics and other drugs growing up in wretched conditions to get the desired weight and size in a minimum amount of time. We all see pets being sold in stores simply to meet the needs of some people to feel that they belong to them, or to please the impulsive desire by bringing them as babies as they fill the void of nonexistence and loneliness their. We also do not see any of these people going out of hand when others are poisoning, banging, stabbing, killing and torturing stray dogs and cats. For this, and for many other reasons, we still choose to attack those responsible and give them back a little taste, not only by burning property and structures, or by sabotaging consumer goods and commercial flow, but also, why not, by attack them too.
VEGANISM AND ANARCHY
Veganism itself is reformism and is not about either releasing animals or harming any industry. Antispecism, in our opinion, is part of the wider anarchy and anti-fascism that in the country where we live and act is not very understandable. Everyone who respects life and freedom knows very well what needs to be done and that's why we are not here to point the finger to anyone. It's a personal choice and nothing more. Veganism has now evolved through modern industry into a lifestyle culture that supposedly flushes the conscience, highly pacifist and only legitimate the economical damage. Millions of animals remain in the cages waiting for death, at best, in industries and farms that use Nazi tactics like in Auschwitz. All of this is simply a theory and when a theory can not go into practice it is nothing more than a 'philosophy'. With Green Nemesis, we targeted products that have been produced with animals or owned by companies that exploit animals for the production of others, yet another criterion is that they are a basic necessity for the Christmas table. Through this action we do not have the illusion that we will close the companies or stop the animal suffering but we wanted to make a small financial loss to the giant companies.
THE STRUGGLE FOR TOTAL LIBERATION IS NOT CLASSIST
The encroachment and exploitation of animals is not only supported by industry and capitalism but also by ordinary people of every class – poor, workers, middle and rich –
That's why we do not discriminate between big companies or small neighborhood shops as they are all part of the same system. With the same rage and will we will break a little butcher's shop, and with the same anger and will we will burn the premises of a large company or put a bullet on the heads of those responsible for these 'jobs'.
We support any form of attack with every consistency against those who torture and profit at the expense of animals in every way, and we are not only able to do material damage. We are also not only able to attack workplaces, shops, or means used to farm animals, but we support every form of attack on their homes and on any private property.
-We have been tired of 'symbolic' actions that are aimed at harming none or with sabotage without impact, or actions made to clean the consciousness and wearing the medal, as long as the culprits live a peaceful life without fear.
-We have been tired of activism and how much with the activist mindset that wants to be friendly to everyone without emotionally harming anyone, convincing everyone that he is just and saves animals and earth without anyone dirty his hands and risk his safety.
-We are tired now with the pacifist mindset and those who are freaked out with what we say and with what we do because we are promoting attacks on people by all means. Having a vegan lifestyle and propagating it will do something usefull? We know and we are sure that the exploitation of animals and the destruction of the environment will not stop, but at least we will return them a little from the martyrdom they cause. The only thing we are sure of is that we will not remain silent.
GREEN AND BLACK ARSONISTS"
(Source: directaction.info)